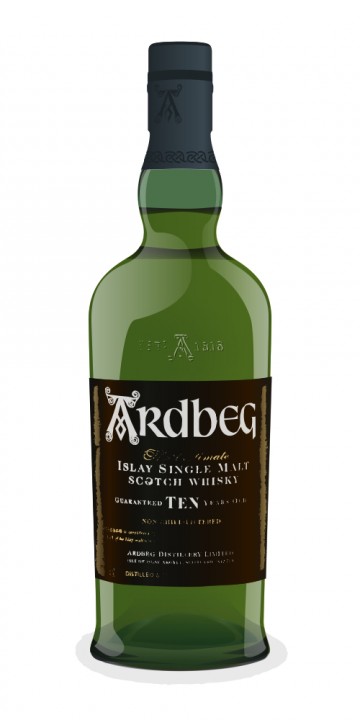 My first Connosr review was an Ardbeg 10 over a year ago now - how time flies! I've made it no secret I'm a big Ardbeg fan and make it a norm to have at least one bottle of the ten a year. So how is this one holding up then?
Review is from a double pour, neat but sat for ten minutes or so. Bottle has been open a few weeks with about a third gone.
Nose - Classic Ardbeg . . . which is, for me, TCP, some brine, smoke, chocolate lime sweets and quite a creamy vanilla malt note with this bottle. More rounded and less of a peaty punch than other bottles (but I am being overly pedantic; through over familiarity, perhaps?). Still good though, and clean.
Taste - Lime sour at first then it develops into creamy vanilla with some distinct barley notes (which is unusual). A little thin on the mouthfeel it has to be said as well. Oh and liquorice(y) peat, of course.
Finish - Medium-long. There's a lingering of the lime sourness, peat tang and the familiar bellowing upsurge of smoke is, well, kind of there, but it's also a little less prominent than other bottles I've had. More of a waft than a bellow. Some pleasantly bitter tannins.
This is still clearly a bottle of Ardbeg 10 but it's definitely a little different than other bottles I've had. It's as if the neat pour gives what other bottles did after I'd added water; which, by the way, does not help this at all - it loses any peat 'hit' and becomes too watery. This is better, for me, after a non peaty whisky as it emphasises the kind of notes that I'm after here. It's still very good but perhaps not quite stellar or going supernova.
Well, from what I hear, the Supernova is no longer being produced, the last release being 2014 I think.
You make me want to open my 10, and my Corryvreckin, and have a vertical tasting with Oogy...
A friend gave me a sample of Ardbeg Kildalton last weekend. Now that is one I would love to get hold of. Still love the Ten though and will always have one on hand even if it is a bit variable lately. It's the one that turned me onto peat about 15 years ago.