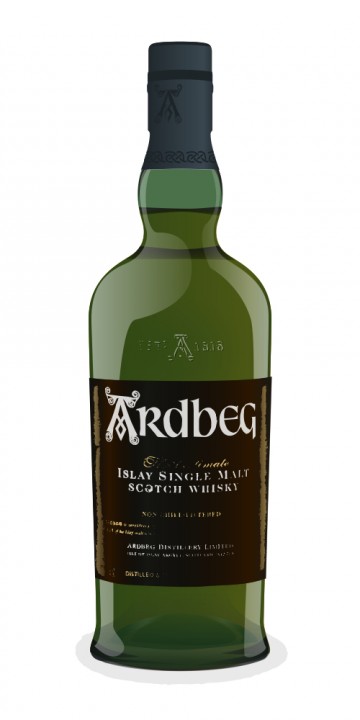 I bought and opened this bottle on New Year's Eve 2013. The tasting notes are from 9-9-2013.
Nose: Soft sweet peat but with an undercurrent of "intensity." I have heard that this was closer to 51% then it was to 49%. This seems way more intense then the 46% TEN I am also tasting tonight. Soft sweet fruits: raspberries, strawberries, and their respective jams. Not the dark fruit, but the soft reds: very sweet. That all sits on a bead of soft peat. A distinct lack of smoke for an Ardbeg. Sweetness really dominates with the peat underneath. Smoke provides a nice subtle foundation: really a two-tone nose. Tons of wine notes now: if you had told me this was a blend of a sweet white wine and a peaty scotch I would have believed you. Now, confectioners sugar, candy sweets and lemon drops with a faint hint of liquorish in the background. Now darker fruits: cherries, and red apples dialing into the citrus notes. This does have a lot going on. With water: much more bourbon style notes of apples, vanilla, and sweetness (brown sugar etc.)
Taste: Very sweet fruits (high tones of sweetness) with hints of wood, spice and peat below it. Still, mostly sweet (nothing off).
Finish: Nice medium wave of peat . . . . and now the very slow roll in of peat, charcoal, and smoldering fire. A lovely alcohol burn . . . that lasts . . . It is more then decent. Big swell of rounded sweet fruit. Very little peat. Very little finish for an Ardbeg. It all just seems to disappear with only a hint of peat coated in raspberry jam . . . not bad, but not Ardbeg!
Complexity, Balance: Decent balance of sweet and peat. Where the sweet dominates the nose the peat really does stand firm by the finish. However, it isn't overly complex. Really only a few tones here: finish and taste do not deliver what the nose promises . . . very interesting.
Aesthetic experience: Very dark golden compared to the TEN. Obviously evidence from the ex-Marsala casks. Totally a 1920's Art Deco design. Too bad I hate that style. I do like the vintage year (1999) and I like that it is "cask strength" . . . but 49%??? After 12 years?? The Marsala casks must have dipped very low indeed. Over all the aesthetic seems a bit too caught up with Ardbeg going to space . . . I would rather Ardbeg stayed down to earth
Conclusion: My least favorite I have ever owned. I am VERY glad I bought a bottle, but I would never by a second bottle. This is not the Ardbeg I know and love.
@whiskyJoe and I split a generous sample of this one tonight, kindly provided by @cyclingyogi. I have to agree with much of your review here though...lots of "lighter" berry fruit notes and not much smoke/peat. A very un-Ardbeg, Ardbeg. I still quite enjoyed it, so I wouldn't penalize my scoring for it not being typical Ardbeg...but I would warn off those who are looking for the Ardbeg experience from this particular bottling.