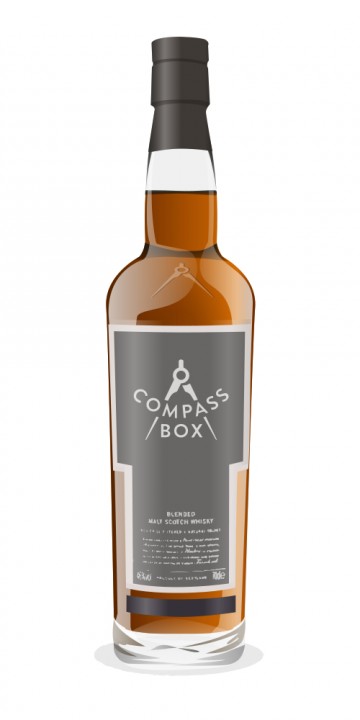 In 2007, The Liquor Control Board of Ontario, the province's sole alcohol distributor outside of the Beer Store (the former being a government monopoly, the latter being privately owned by Labbatt's, Molson-Coors, and Sleeman—Oh, how Ontarians suffer!), commissioned Compass Box's John Glaser to create a whisky for their market. The result was Magic Cask, a vatting—this is pre-2011, remember, when malts could still be "vatted" rather than just "blended"—of a 17 year-old Linkwood, aged for its final year in a Madeira barrique, and a 14 year-old Clynelish.
I was not drinking much whisky in 2007, or living in Ontario, for that matter, when Magic Cask was released. But soon after I began drinking whisky and moved back to Ontario several years later, a single bottle reappeared in a local store, as if by magic. I'm not a fatalist except when it's convenient, so I snapped up the bottle—how much more convenient could a discovery like this be?—and, this weekend, I opened it with friends. And (once again, as if by magic), the whisky disappeared. Poof!
Magic Cask's orange-that-tends-towards-pink colour is unmissable. There is also a bit of sediment in the bottle (and, eventually, in my glass). Clearly, the Madeira has worked some magic here.
The nose is sweet and cerealy. There is some light smoke, a touch of salt, and notes of candy-sweet Maderia, lychee, and pineapple. There is some classic Clynelish waxiness, too.
The palate is again sweet and smoky, but salty as well. It is gently perfumed with rose petals and enriched with some milk chocolate. The finish is salty and of good length.
Surprisingly, given the age statements on the label, the whisky could have used more time in oak; more to the point, perhaps what was needed was somewhat fresher oak. It is big and rich, but also a touch too aggressive, though certainly still a cut above the average. The Madeira also steals a bit too much of the show, and while the other elements dance nicely with it, the whole affair seems overelaborate. If it aimed towards perfection and fell a ways from it, though, at the very least it set its sights in the right direction.