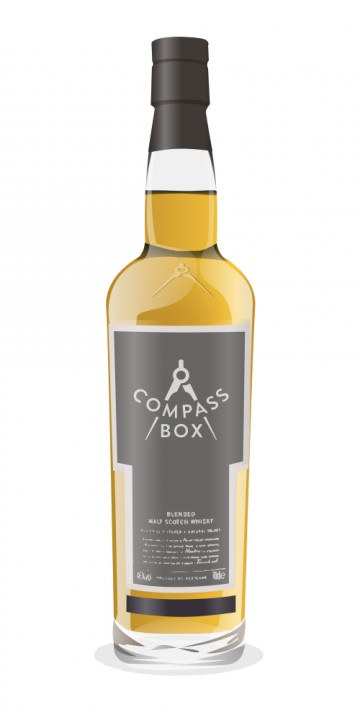 Asyla is a blended Scotch whisky from Compass Box that was first released in 2001 and is made of 50% malt whisky and 50% grain whisky. The exact composition is as follows: 5% malt whisky from Glen Elgin (matured in refill hogsheads), 22% malt whisky from Linkwood (matured in first-fill American standard barrels), 23% malt whisky from Teaninich (matured in first-fill American standard barrels), and 50% grain whisky from Cameronbridge. The whisky's name «Asyla» comes from the plural of asylum, a word that according to Compass Box is «rich in ambiguity, suggesting that delicate balance between madhouse and sanctuary…». Well, why not. In 2018 Compass Box announced that Asyla would be discontinued due to a lack of appropriately matured stock of the key malt whiskies contained in the blend. They would not rule out however that it might make a comeback in the future.
The nose is very rich and lush. Vanilla and fudge flavours take centre stage, together with notes of nougat, burnt marshmallows, and cereals. There is also a hint of lemons. All in all, this is a gorgeous, sweet and «yummy» nose.
The palate is medium-bodied and a bit spicy at first, then is hit by a wave of vanilla, fudge and nougat flavours that roll over the tongue. Very round mouthfeel that becomes almost oily. Later on, there are more malty as well as grassy flavours.
The finish is long and warming. The grassy flavours are back, followed by hints of vanilla and lemon.
This is a sweet, lush and very drinkable whisky. No doubt the 50%-50% split between malt and grain whiskies is working well here and has resulted in this well balanced, sweet blend. Compass Box suggest that Asyla is to be enjoyed before dinner or on a Sunday afternoon – well, I can certainly imagine myself doing that.
Thanks for the review @Pierre_W .
How would this hold up against, say, JW Black?
I picked up a few bottles of this on clearance in Ontario at $19 Canadian some years ago. Found it a bit underwhelming but for the price I could not complain. I also grabbed a Hedonism that day also on clearance for $48 Canadian which was a significant step up as Grain Whisky goes. Those deals seem to be rarer as the years go by. Thanks for the review.