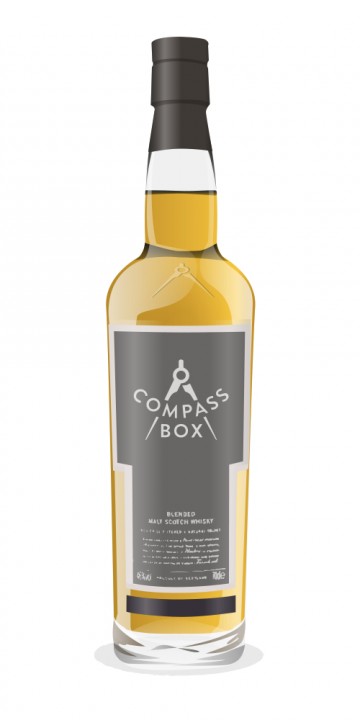 Lastly in our Compass Box exploration, we come to The Peat Monster. This is 64% Caol Ila matured in refill hogsheads, 35% Laphroaig matured in refill hogshead, and 1% "highland malt blend" matured in French oak. Let me just say that the artwork of the "peat monster" is brilliant and quite adorable as far as monsters go. Bottled at 46% this is neat in a Glencairn. I will be curious to see how all this Islay does in refill sherry casks.
Nose: I've had some Caol Ila, and lots of Laphroaig. And this smells like both. Very nice billowing peat smoke, with some lemon coated seaweed, smoked beef brisket, and subtle, subtle orchard fruit and vanilla. It's very Islay.
Palate: Salty, lemony, maritime, and smoky. Everything you would expect in Islay whisky is here. More of what I would consider Caol Ila notes with all the lemon (I get lemon everywhere in Caol Ila 12). I really couldn't tell you that these were refill hogsheads. I wouldn't be surprised if they were filled more than once. I like it though. This isn't drowned out in sherry and that is refreshing these days. It is a bit too lemony for my taste though. The longer it sits in the glass the less lemon and the more mild fruit there is. I think this could use some air time.
Finish: Salty, savory, and more lemon. Sea foam drawing back from the shore with some sea weed left behind. Nice, enjoyable, long finish that I come to expect with these peaty whiskies.
Blithering: A clean, quaffable example of Islay whisky. Salty, smoky, meaty, sea funk. I've tried 25ml out of each 50ml sample so I will allow all these to get some air and revisit them later. The spice tree is my favorite out of the 3. Happy New Year all and I truly hope that the world is in better shape in 2021.
Fact Sheet: compassboxwhisky.com/images/whiskies/…
Nice review. I found I really enjoyed my first bottle of Peat Monster. My second bottle was less impressive remains over 1/3 full 4 years after opening and was apparently last poured 3.5 years ago. I wonder how I used up so much of it in half a year! Must have given samples...
I picked up my third bottle probably before opening the second one, and I think I eventually bundled it with some other LCBO returns for a CS unpeated Caol Ila and Lagavulin 12. I do not regret that.
@Nozinan Cant go wrong with either of those!