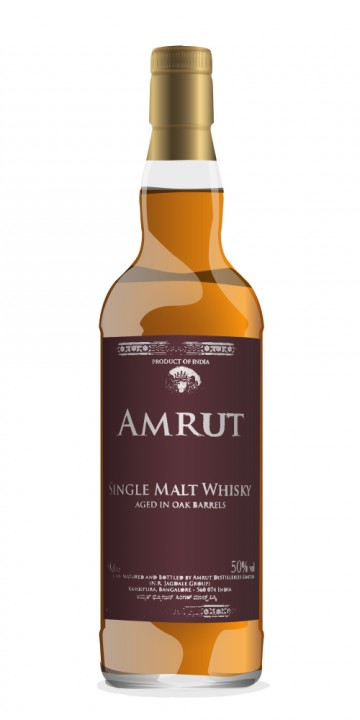 Heard great things about Amrut so been wanting to have a try of this for a while. This is from a 2/3 full bottle that's been open a month or so.
Nose neat: There's rich, fruity barley, oak, spice and a tangy peat note emerges with some persistent sniffing.
Taste neat: This is rich and concentrated. Effervescent barley and sour fruit.
Finish: Med - long. Chewy sour fruit syrup and some faint peat.
I don't think I've ever split a review into neat and then with water but this one is worthy of the extra effort. It doesn't need water, and it's one you can play about with quite a lot, but it definitely improves the experience. The happy place for me is about a 1/4 tsp to a 30-35 ml pour. I'll let that sit for a little while . . .
Nose: That's better! Fruits, lots of them. I've spent over a year in India, all visits combined, and this does take me back. Lychees and a similar fruit that I only remember the Thai name 'glop-jai' for. Mango? yes , I think so - overripe, woody ones. There's a lovely American cream soda sherbet note (could eat that stuff by the lb as a kid). Much more peat and barrel char type smoke coming out now. Sour notes have the upper hand but sweetness is there. Dusty barley.
Taste: Sweet arrival that hints at fruit but then unwinds into the cream soda. Then a note like a wooden fruit market stall bench after a long day in the Indian sun develops. Woody, sweaty and overripe. Some baking spices; clove, hints of cardamom and some cinnamon.
Finish: This is so much better with water added. Longer with a beautiful mild peat, sweet liquorice tang along with the fruit syrup but less concentrated and lighter, sweeter. Less sour and the cream soda makes a final appearance.
Overall, really good and given my experiences with 'molasses whisky' this is in a whole different league. The cream soda note is so unusual but a delight and the quality of both barley and production very evident. Also interesting to see a malt matured in a hotter climate. You can sense the youth but there's complexity with it.; not masses, but enough. .
I hate to disagree with you, but visually, according to your picture, the nose with water would be more like Longans than Lychees.
Nice review. This was my first Amrut. I haven't tasted it in years. I have one put away. Maybe I should open it.
@BlueNote yuck!!!!!